Syracuse, New York. February 1, 2023. Schneider Packaging Equipment, a Pacteon Group company, announces its expansion of in-house production capabilities with an investment in a computer numerical control router.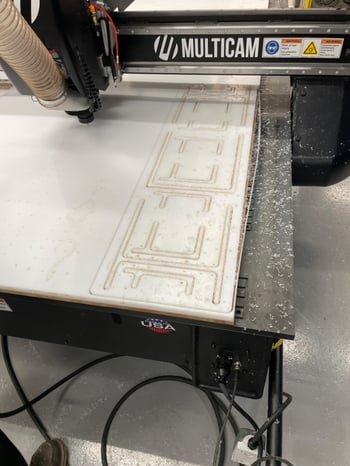 The CNC router equips the Schneider machine shop with the capacity to manufacture more system components at its Brewerton, NY, facility, minimizing the need for outsourcing. The sophisticated router increases production volume, accuracy, and speed by streamlining processes that previously required multiple-step operations.
"As a technology-focused company, we're excited to have a state-of-the-art machine that will improve efficiencies and output quality. This will eliminate supply chain issues, and our customers will benefit from improved build times for their machines," said Shawn Mason, Machine Shop Manager at Schneider.
Schneider can now accommodate processing more machine components for its sister companies: ESS Technologies, Inc., based in Blacksburg, VA., and Phoenix Wrappers Corporation in Laval, Canada. Jeff Grinnals, Director of Operations at Schneider, added:
"Expanding the production of in-house parts for all the Pacteon brands provides significant cost savings and alleviates many procurement challenges our industry is experiencing. As we grow, operational investments are a top priority to continue delivering world-class end-of-line machines".