From the ground up and the top down, the Schneider Everest was designed to be clean in every sense of the word.
Schneider engineers started with orientation. By trading the common tube for a plate design, this allowed them to put the electrical cabinets overhead, out of the way and free from pooling water.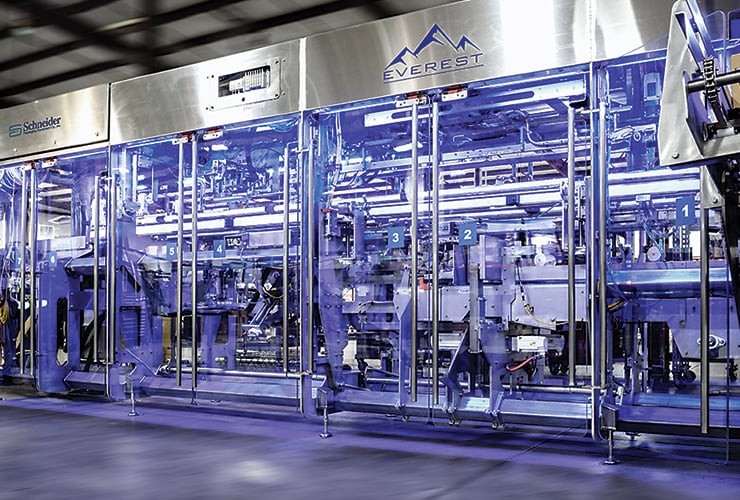 "The Everest was specifically designed from the ground up to avoid that," Design Engineer Erik Kwiatek said. "The surfaces are slanted and whether or not there are cutouts, the water will flow through. There will be no instances of any pooling of water or bacteria."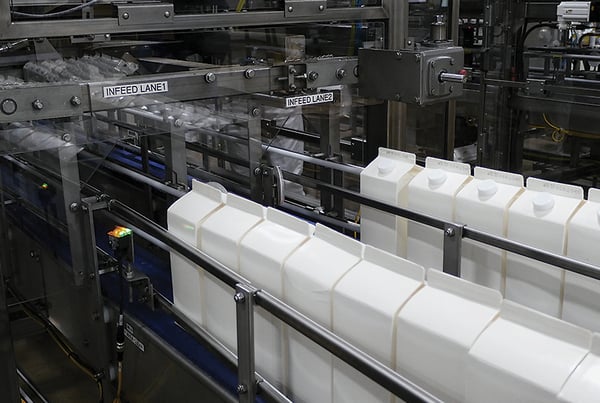 This is especially important in an industry where washdowns are frequent to meet FDA and other regulatory requirements. The Everest also integrates robotics that streamline changeovers common in dairy applications.
"It adds a lot of versatility," Kwiatek said, noting adjustments range from 4 and three-quarters of an inch all the way up to 15. "It's extremely adaptable and the robot allows you to adjust to the corrugate needs.
"With a couple changes on the HMI, you can adjust those positions and you can add perforation to your case or cutouts and still be able to use the same machine to print your product rather than buying other components," he said.
Intelligent Illumination™ makes the machine even smarter. Intelligent Illumination uses visual cues and precise alerts to quickly identify machine state without any wasted downtime troubleshooting from the HMI. It complements a design that is as clean as the products inside need to be for the dairy industry.
"This machine has a water-jet frame that's very thin, enabling you to see into the machine without anything blocking your sight of the product," Kwiatek said. "The guard doors are completely see-through. When you open up the doors, there's nothing in your way."
The servo-driven design has fewer components to service. The use of servos makes it easier to maintain, not to mention gentler on the products also protected by bottom loading.
"It can treat a product in a way that doesn't damage it," he said. "Even the selection of the conveyor belt coming in is designed not to damage the product."
So, from the bottom up to the top down and all the spaces in between, the Everest has dairy's best interests in mind.